"Mad Maxime" Bernier is an extremist. He's also a sore loser.
After Mad Maxime got wiped out in the election on Monday – losing his riding by over 17,000 votes (30 percent) – he looked around for someone to blame.
Does that remind you of someone else that tried to blame his election loss on someone else?
So what did Mad Maxime do?
He posted the email addresses of three reporters on Twitter. In the tweet, he called them "idiots" and their work "smear jobs." Then, he told his supporters to harass the reporters, saying, "They want to play dirty, we'll play dirty too."
In effect, he invited his often angry supporters to attack reporters that disagreed with him.
According to Twitter, it's against their rules to publish private information about people. This includes their contact info.
So Twitter flipped Bernier's account to "read-only." This meant that we could all see his account, but he couldn't tweet anything else until he took down the private information.
He deleted the post 12 hours later.
But not before the tweet had been shared widely on extremist chat groups.
"When Bernier put out his message to 'play dirty' with these journalists and put up their emails … that message was received immediately by white supremacists," said Evan Balgord, executive director of the Canadian Anti-Hate Network, told Global News.
One user on a youth white supremacist group responded, "We've got his back; he has ours, it seems."
Mad Maxime's tweet set off a flood of hateful emails that filled the reporters' inboxes.
One of the reporters who had her email published shared some of the hate mail she got from Mad Maxime's mob.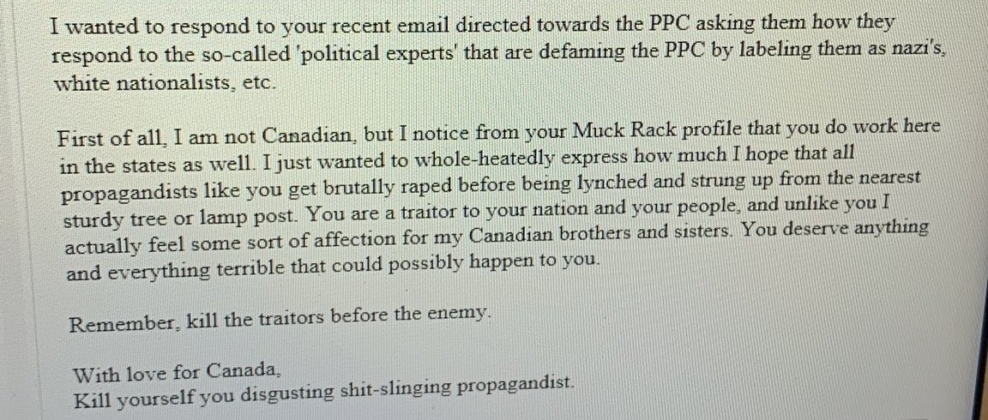 In the email, the sender says he hopes she gets raped and killed. He also tells her to kill herself.
Another reporter posted about how he got racist messages after the tweet went out with his email.
Barbara Perry, Director of the Centre on Hate, Bias and Extremism at Ontario Tech University, told Global News, "If we don't check the language, it does easily (and) can very easily escalate, then to lead to action — including various forms of violence, whether it's hate crime or whether it's directed attacks at individuals."
It's totally fair to criticize the news. But telling someone you want them to get hurt or killed is not just a criticism. And we're not just saying that because we're in the news business.
Reporters tell stories about our communities. We help give folks a platform when they need to speak up. And we sometimes tell stories that powerful people don't like.
Is our work perfect?
Hell no! And getting feedback from people who read the news can help make our work better, even when that feedback feels kind of harsh.
But with people like Mad Maxime sicking his thugs on reporters, it's hard to do any work at all.
It's hard to tell stories when someone wants you dead.