Dr. Judith Sayers is pretty awesome. She was the elected chief of the Hupacasath First Nation for 14 years. She's president of the Nuu-chah-nulth Tribal Council. She's the Chancellor of Vancouver Island University (VIU).
She's even a member of the Order of Canada.
And last week, she was given an equally awesome gift.
In a ceremony on March 24, Chancellor Sayers was given a hand-carved talking stick. And it's pretty beautiful.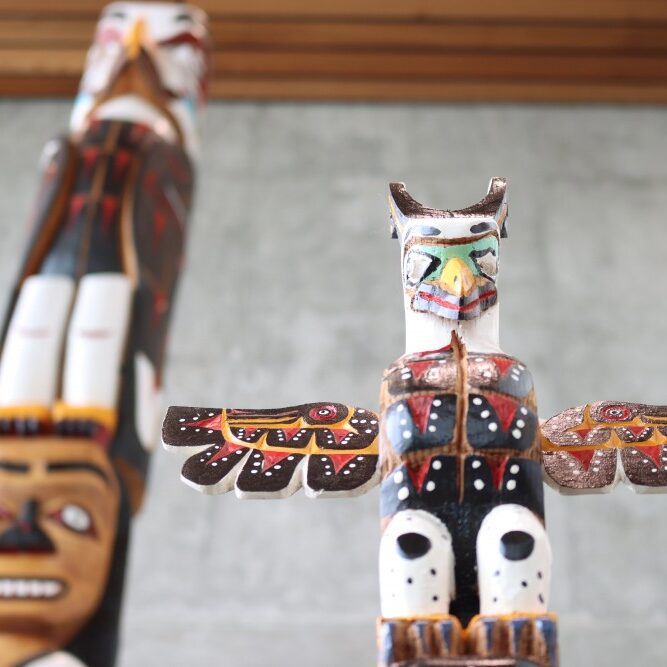 The talking stick was crafted in the traditional Coast Salish style by Ts'usquinuxn (William Good), a hereditary chief and master caver from Snuneymuxw First Nation. But it also has elements that honour Sayers' Nu-chah-nulth heritage. These elements include a thunderbird and lightning snakes.
The stick also features a killer whale to give her strength and fortitude.
Traditionally, talking sticks were carved for a chief to acknowledge their position within a nation. This stick was gifted to Sayers to honour her position as Chancellor of VIU.
During the ceremony, Ts'usquinuxn told the group that it was customary for a chief to have two talking sticks. There would be a tall one like the one given to Sayers, and a smaller one that the chief could carry around.
Ts'usquinuxn told folks that he was honoured to carve the talking stick for Sayers. "You deserve it," he said. "I hope it means a lot to you."
"This is to represent your journey here, your work and to give you the strength that you need to do it," said Ts'usquinuxn's daughter, Aunalee.
Sayers told folks at the ceremony that receiving the gift of the talking stick made her heart full.
"It's an amazing, powerful piece of work," she said, "You have given me a tool to assist me in my role here as chancellor."
Sayers said that there are many challenges involved in changing the role Indigenous peoples play in academia. 
"We have a huge body of knowledge—Indigenous wisdom—that we can share."
"[The talking stick] gives me a greater voice," she said. "An opportunity for a greater voice going forward and helping to be part of the change with all of you. We walk together."