Mt. Colonel Foster's majestic peaks are breathtaking, but they can also be dangerous.
The 4th highest mountain on Vancouver Island has some of the region's most challenging alpine summer and winter climbing routes. Two mountain climbers recently found out just how difficult after having to be rescued by helicopter after sustaining serious injuries in a fall.
According to the Vancouver Island Climbing & Mountaineering Facebook site, both were hurt on the east face of the Colonel when the lead climber took a huge fall, and his partner sustained significant hand injuries from rope burn resulting from belaying – holding the ropes – to save the fallen climber from below.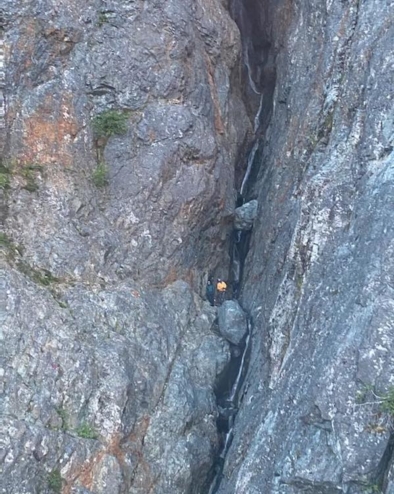 Colonel Foster's massive east face rises above Landslide Lake in the heart of Strathcona Provincial Park. Before the fall, the pair were climbing the steep Cataract route, which follows a sharp ridge for more than 1300 vertical metres up the mountain's east face.
Luckily, the climbers were carrying a SPOT, a device that communicates location coordinates and alerts search and rescue that a rescue is required. So the climbers used their SPOT to signal they were in trouble and needed help.
They spent the night on the mountain alone, but the next day, Campbell River Search and Rescue got the message and flew into Colonel Foster with a team. After spotting the climbers huddled at the base of a waterfall and assessing the situation, they determined that a long-line helicopter rescue was needed.
Search and Rescue teams from both Comox Valley and Campbell River are equipped and trained for helicopter rescues from mountain faces. However, no helicopters were available locally, so they called Vancouver's North Shore Rescue (NSR) to assist. NSR's long line rescue team assembled quickly, and after boarding a Richmond-based Talon Helicopters machine, they were on the scene before nightfall.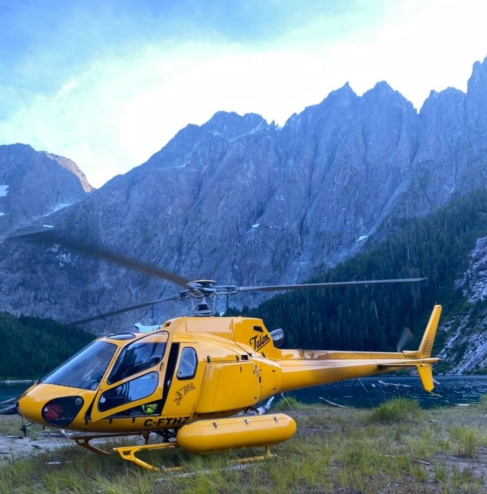 By that time, the injured climbers had spent 24 hours on the mountain. They were physically exhausted and emotionally spent. Sundown was approaching, so the NSR team had to work quickly.
Two volunteer rescuers were lowered to the climbers on a long line while the pilot hovered above. NSF then triaged the two climber's injuries and did emergency first aid before preparing them for extraction.
The helicopter plucked them from the mountain with harnesses linked to a long line and delivered all four safety to the valley below.
The climbers are now recovering from their facial and hand injuries, and are thankful for the rescue efforts of the volunteer Search and Rescue personnel.
In a Facebook post, Cumberland-based mountain guide Jan Neuspiel said that helicopter rescue capability on Vancouver Island has been greatly reduced this summer after many local copters were in the interior fighting forest fires. That's why the North Shore-based rescue team needed to be called in to help.
So keep that in mind, folks, when you venture in the backcountry.