Canada's two official languages may be English and French. But a wealth of languages have been spoken here for a whole lot longer.
In Ucluelet, that language was the West Barkley dialect of the Nuu-chah-nulth language.
And the district is taking action to honour that language. And teach us all some new vocabulary along the way.
Next time you're driving through town, you'll notice something a little different.
The street signs won't just be in English. They'll also be written in Nuu-chah-nulth.
The first set of street signs was unveiled at the end of July. The new signs are at the intersection of k̓ʷak̓ʷaƛ t̓ašii (Otter St) and y̓učkw̓anim t̓ašii (Peninsula Rd). The word y̓učkw̓anim means 'at the point.'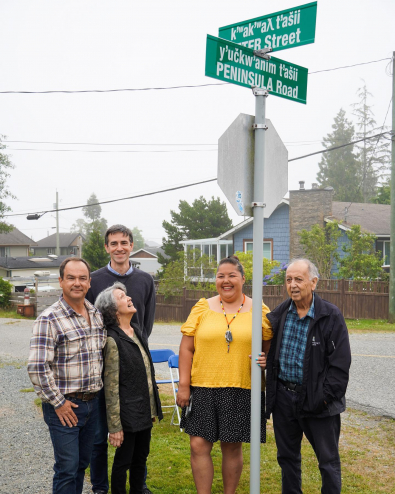 It might seem like a small gesture, but it has a big impact. It helps folks get familiar with words they might otherwise never hear or read.
Many of the streets in Ucluelet are named after local features like Alder, Bay, Cedar, and Peninsula. So they're prime candidates to be named in both languages.
Jeneva Touchie is the culture and heritage keeper for the Yuułuʔiłʔatḥ nation. "It is really great to see our language live within Ucluelet, our traditional territory. It feels like home," she told the Times Colonist.
Without Touchie, this project may never have happened. District Planner Bruce Greig was sitting in her language class in 2019 when he got the idea for the street signs.
It took a couple of years to work out the translations and get the project off the ground. The district plans to install the rest of the signs in the coming weeks.
As the district put it, the signs are a "small step on the path to reconciliation."
If you'd like to take it a step further, there are resources to help you do it!
To hear Nuu-chah-nulth words spoken aloud, check out firstvoices.com/explore/FV/sections/Data.
The site even has games to help kids (or you) start learning!
Even if you just pick up a word or two on your ride home from work, it's movement in the right direction.